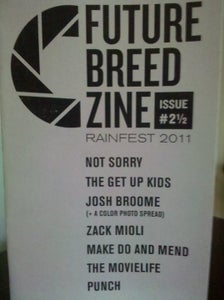 $

2.00
These are the last of the Rainfest edition Future Breed Zine. I printed 125 of these. The issue is dubbed "Issue #2 1/2." The interviews in it are:
Not Sorry
The Get Up Kids
Josh Broome (+ color photo spread)
Zack Mioli
Make Do And Mend
The Movielife
Punch
There is 36 pages of content in the zine.